http://www.youtube.com/watch?v=xK9TOvMt0pA

It's finally Friday! I know I'm making this extremely early but I can't help it, I'm too excited, especially after all of Thursday night's awesome games. Will be leaving work early tomorrow to make the drive up to Sunrise, Florida to see the Devils take on the Cats at the BAC. Will be in section 415 for any of those other NJDev'sers who will be at the game!
For those of you in Jersey:
#TeamSouth viewing party: Bar A - Lake Como, NJ

#TeamNorth viewing party: Texas Arizona - Hoboken, NJ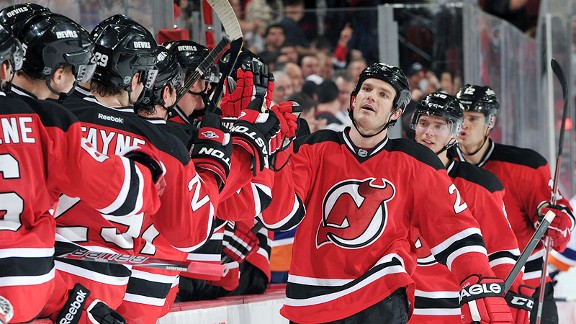 Expected Lineup:
Forwards:
Zach Parise-Travis Zajac-Ilya Kovalchuk;
Petr Sykora-Patrik Elias-Dainius Zubrus;
Alexei Ponikarovsky-Adam Henrique-David Clarkson;
Ryan Carter-Stephen Gionta-Steve Bernier;
Eric Boulton, Cam Janssen.
Defensemen:
Andy Greene-Mark Fayne;
Bryce Salvador-Marek Zidlicky;
Anton Volchenkov-Peter Harrold;
Adam Larsson
Goaltenders: Martin Brodeur, Johan Hedberg
______________________________________________________________________________________________
Alright... we have already all read our fair share of previews... thoughts... articles... and storylines associated with this series... the time has come to forge new memories, and leave the failures of our recent teams since the move to the Rock behind us. Let's just get it done! Just win, baby!
LET'S GO DEVILS!!
Edited by DevilsFanSteve30, 13 April 2012 - 02:08 AM.