So tonight we play the Calgary flames
Our record : 0-1-3 (WTF win a a freaking game)
Time : 9h pm
where:
Deboer
vs
Hartley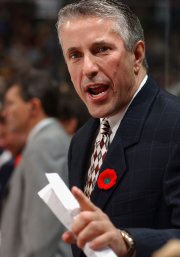 Always been a fans of him, but tonight not cheering for Calgary.
Projected lineup!
Devils :Overrated veteran players instead of Loktionov Josefson Larsson
Flames: AHL hockey club + Monahan + Giordano
Just win this one boys we need wins to make the playoffs! Loosing every game in Ot not gonna help!
And can this guy start score goal????????