the best decision i ever made growing up was deciding not to follow my father's roots of being a ranger fan, and deciding to become a devil fan. 15 years later i couldn't be happier. i love being a fan of the red and black because:
1. they are a real team- with today's game being more about the money, and who has it, the devils show that loyalty, hard work, and good drafting can still work in today's NHL. look at all the exceptional players who have come up through the farm system playing on this team (not even including the ones who have left). this is an organization that should be envied by all, and used as poster children for other GM's on how to build a TEAM. everyone wants to be here, you rarely hear about players whining and moaning about money and what role they think they should be in. hell, players like rolston, brodeur and others take pay-cuts to play here. that says something in today's NHL.
2. going into free agency, lou never overpays for some high priced veteran just because fans will recognize his name. this is why i think the rangers will never be as successful unless they change their approach to building their team.
3. while every team has their idiot fans (ours included), I think as a whole we have some of the smartest fan base in the NHL. reading other teams' forums, and listening to their announcers/fans feels like i'm just getting a lesson on why their team is the best but most of them don't actually pay attention to the NHL, but instead play NHL 08 and base players on their "overall level" in the game.
4. this is a class organization- it says something when a player of rolston's caliber turned down 17 other offers from GM's to take a pay cut and play here. how many other teams can claim that?
5. we have arguably the greatest goaltender ever to play hockey- 3 stanley cups, a gold medal, four eastern conference championships, eight (i think?) atlantic division championships, rookie of the year, 500+ wins (2nd all time), shares the record for most wins in a season, has played 70 or more games every season since 97-98, 96 shutouts (2nd all time, but first in combined shutouts combining the regualar season and playoffs), four vezina trophy awards, ect. ect. i could go on for pages with this.
no one else can compare.
6. we're not the rangers, flyers, or islanders- enough said right there. the only reason any of these teams know what the cup even looks like anymore is because we bring it home more often, and more recently than they do.
7. we have the best name, colors, and logo- what says bad ass more than a DEVIL? the name goes along with the state so well, too.
8. we have this guy on our side-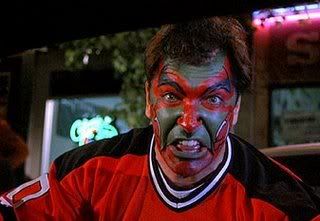 Edited by handofdoom, 05 July 2008 - 06:24 PM.