Okay, finally back in the drivers seat for the GDT, as the snow falls and attendance record may make an all time low tonight, 2 points are at stake and the Devils are back in action tonight, live at 7PM via MSG+!
Coming off a 5-3 victory over Buffalo on Wednesday night, it looks like Clemmensen AGAIN will get the nod and be in net as the Devils take on a struggling Senators Team....
Looks like there will be a lot of this tonight as the Devils light up the Sens tonight at The Rock!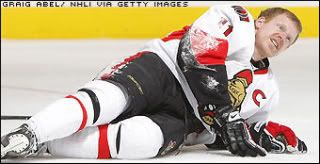 Our 4th Line is rockin and Holik is ready to lay a few Sens out...
It may be time for the Sens to press the Panic Button... With all that talent and no direction...
Emery Sloppy Seconds?
Whoops, how could I forget??
Dont crap your pants Johnny, we're expecting a goal from you tonight on the PK
A lot of this tonight...
Welcome Back Mr Greene...
Lets go DEVILS! LETS GET 2 more points tonight!!
Edited by BlizzardCyclone, 19 December 2008 - 12:53 PM.