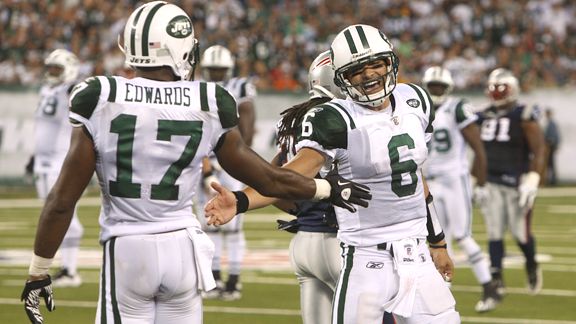 ..well.. well.. well.
What a difference a week makes, eh gentleman? 2 games in the books.. and the laughing-stock Jets are now 1-1. -IN FACT (
while we're at it
) let's look at some of the other teams that are 1-1 in the Conference, shall we? New England.. Baltimore.. Cincinnati.. Denver.. San Diego.. Indy.. Tennessee.. Jacksonville..
..Get the picture yet? Let the cluster-fvck, that was the AFC last season.. begin again THIS season!
This is why you play the games folks. And this is why you wait 'till (
at least
) November to make claims. This season for the Jets (
and most of the teams in the AFC for that matter
) is going to be a dog fight.. up until the very last game. What
hurts
the Jets is their schedule. What
helps
the Jets is the parody throughout this Conference. It's okay to have up & down weeks.. because that's how it's going to be for most of the teams in the AFC anyway.
Like I said last Monday.. relax.. breath deeply.. and take it one week at a time.
----------------------------
Thoughts & Notes from the game:
*
The Defense
: What can you say? Over the last 2 games: 6 sacks.. 3 interceptions.. 3 forced fumbles.. only 3 touchdowns allowed. Just unreal all around. When the defense plays like their usual selves, and the offense does their job.. this team looks beautiful.
*
Sanchez
: WOW! 21 for 30, with 3 TD's.. no picks.. 220 yrds.. and a 124.3 QB rating. Message to Schotty sent loud and clear.. TRUST MARK MORE!
*
Braylon
: He looked great. Simple as that.
*
LT
: How about that old dog San Diego didn't want anymore? What's his name?? Oh well, anyway.. he's got 140 rushing yrds (
on just 22 attempts
) over the last 2 games. That's an average of 6.5 yrds per carry. Not bad for what's-his-name huh?
*
Folk
: I'd like to thank the Dallas Cowboys organization for this one. --17 Points in the last 2 games. I take back everything I said about Nick Folk. Keep it up guy.
..I absolutely can't wait until Sunday, when Peyton beats the ever loving sh!t out of Big Blue.. and all you fvckers can go back into your holes with tails between your legs.


Not so fast...the G-MEN have a shot against the Colts if they can win in a Scorathon.

..now go back into your hole(s)!
Edited by Beezer34, 20 September 2010 - 08:51 AM.